The nationwide Policy.nz initiative has contacted all candidates and invited them to share more about themselves. This non-partisan project is supported by LGNZ. You can read candidates' profiles at https://policy.nz/2022
Progress Castlecliff have asked all candidates questions and you can read their responses by clicking below: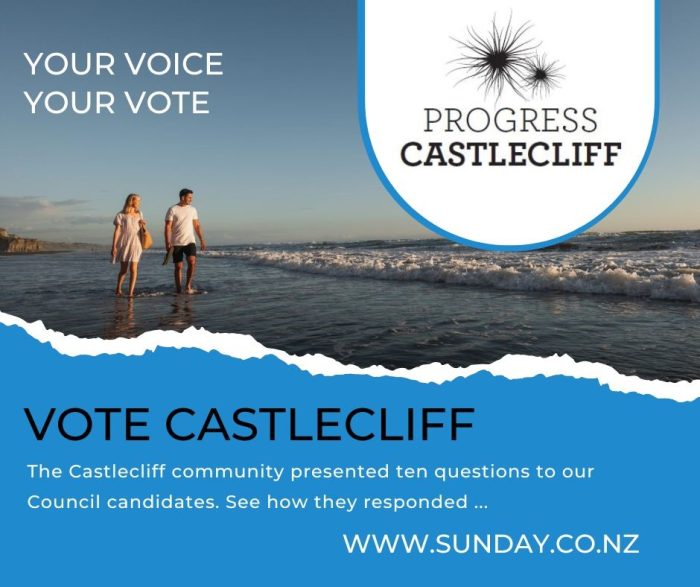 Read the Electoral Officer's presentation – Candidate Briefing Presentation
General FAQs
When are this year's elections?
Local elections will be held in October, with voting open from Friday, 16 September to noon on Saturday, 8 October.
What does FPP mean?
Local bodies can conduct their elections under First Past the Post (FPP) or Single Transferable Vote (STV) electoral systems.
The electoral system to be used for the 2022 Whanganui District Council local elections is FPP, which means you vote by indicating your preferred candidate(s) with a tick. The candidate that receives the most votes is declared the winner, regardless of the proportion of votes that candidate obtained.
How do I vote?
These elections will be conduced by postal voting. If you are enrolled to vote, you will receive voting papers in the mail between 16 – 21 September. You will need to return your completed voting papers by mail or you can drop them off at one of Council's voting drop-off locations around town.
Who will I be voting for?
This year you'll be voting for (1) Mayor, (12) Councillors, and depending on where you live, (7) Whanganui Rural Community Board members. You can view all the candidates here.
What about the District Health Board (DHB)?
DHB elections are no longer required since the Government transferred delivery of health and disability care to a new organisation – Whatu Ora | Health New Zealand.
Who can I talk to at Council about the elections?
For questions election processes, whether running as a candidate or being a voter, contact the Electoral Officer Warwick Lampp at 0800 666 049 or email whanganuidc@electionz.com
For questions about Council or what it's like to be an elected member, contact Council's Democracy Services Manager at 06 349 3003 or email kate.barnes@whanganui.govt.nz.
Campaigning
Where and when can I put up election signs?
Election signs are permitted on private property (with the owner's consent). Signs on public land are required to be within Council's community signage areas. You need a permit to use these areas. Find out where signage areas are and how you can get a permit. 
For State Highways, signs must meet Waka Kotahi – NZTA rules for any signage.
Signs must come down by midnight Friday 7 October 2022. If you have any further questions about signage, email elections@whanganui.govt.nz
Voting
How do I know whether I'm enrolled?
You can check your enrolment status on vote.nz. The Electoral Commission will be undertaking a roll update campaign in early July 2022 for the Parliamentary Electoral Roll which forms the basis of our roll for the local authority election. If you do not receive a letter in the post during late June/early July 2022, the chances are you are not enrolled or your details are incorrect.
I haven't received anything in the mail. Can I still vote in this year's local elections?
Yes, but you won't receive voting papers in the mail – you'll need to complete a special vote. You can enrol to vote right up until Friday 7 October, but you'll need to come to the Council offices before midday on Saturday 8 October to vote.
How do I make a special vote?
Visit the Whanganui District Council offices at 101 Guyton Street and ask to speak to the electoral officer. Hours are 8.30am – 5pm on weekdays, extending to 6pm during the final week of voting (3 -7 October). Council offices will be open until midday on Saturday 8 October for people to drop their voting papers off or make a special vote.
I'm going to be overseas during the voting period. Can I vote early?
Unfortunately there is no provision for early voting at local elections. If you are going to be out of town during the voting period (16 Sept to 8 October), you would need to be staying in a single location nowhere further than Australia or the Pacific Islands in order to get a paper specially sent out to you and returned in time (even then no guarantees with the postal system). We can't give anyone papers in advance to post back.
How do I know who the candidates are?
Candidate information will be sent along with your voting papers between 16-21 September. You can also learn more about candidates from reading the newspaper, following them on social media, attending candidate events, and looking at websites like policylocal.nz.